Special Music for
Your Outdoor Event
If you are planning an outdoor event in Washington, D.C., Maryland, or Virginia, such as a fair' festival' community or corporate picnic' grand opening for a business' or other similar large outdoor event' Bender's Circus Calliope may be just the special musical touch you need. Our custom made 58 whistle compressed air calliope can provide almost continuous background music that will please listeners of all ages.
| | |
| --- | --- |
| | The sound is pleasant to the ear and the tunes are traditional American: popular, sing-along' marches' ragtime' blues' fox-trots' waltzes' and novelties. |
The circus style trailer, decorations, and costumes harken back to the days when the calliope (in its much louder form) was the final unit in the circus parade.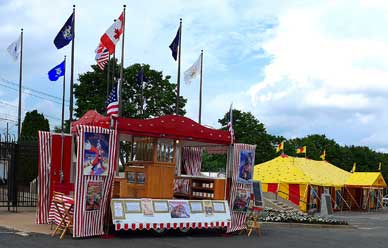 Worldwide Circus Summit

Because the music is played with punched paper rolls, Terry and Jan Bender can interact with visitors while the music plays.
Welcome to our website! Many of your questions will be answered on these pages and you can use our site to help explain your musical discovery to your event staff. This instrument is the first of its kind in the world and your event in Washington DC, Maryland, or Virginia may be the perfect setting for its music.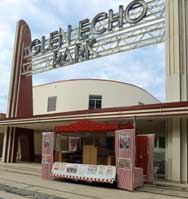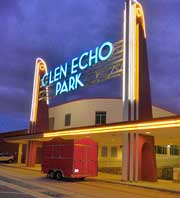 Our calliope awaits families for the Centennial of the Glen Echo Carousel in August 2021. Members of the Carousel Organ Association also brought several large band organs and organ grinders with small organs to this special event. Children visited each instrument, earning stars on their passport for a prize.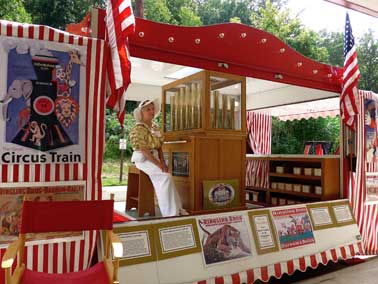 Jan is inside the calliope at Glen Echo Park to be handy when it is time to change the punched paper rolls that help create the music and to show visitors the roll mechanism. Terry talked with visitors as they arrived.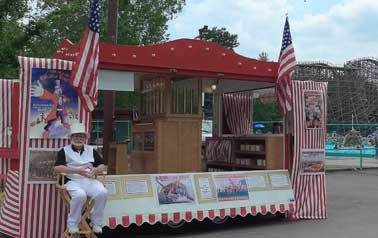 We were in a central location at Knoebels Amusement Park, Elysburg, PA in June 2021.