Our Unique Sound
Below are links to two samples of the special sound produced by our new Tangley Calliaphone. If you are familiar with steam calliopes or even old air calliopes, you will be surprised at the difference in sound. It is musical! It sounds like a brass pipe organ.
The calliope is being played using reproduced punched paper "A" Rolls. These rolls were used in several kinds of mechanical musical instruments in the early 1900's.
You can hear our calliope by clicking on the links below. The music samples are taken from our CD, "Marvelous Marches".
Because the samples have been digitally compressed, and you are listening to the sound through computer speakers, be assured that the live music is even better.

Be sure you have the volume turned up on your computer speakers so you can hear the sound. For better listening, we recommend that you use headphones.
---
Semper Fidelis [.wav file; 388KB]
Stars and Stripes Forever [.wav file; 392 KB]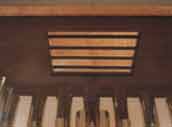 The swell shutters in the top of the hood over the calliope whistles are operated by a simple knob. In an outdoor setting such as a large fair, the open shutters provide an appropriate volume. With the shutters closed, the volume is reduced enough that it is possible to stand right next to the calliope and talk.