Frequently Asked Questions
about having the Organ Grinder play
at your event
•What kinds of outdoor events are appropriate for an Organ Grinder playing his street organ?
Experience has shown that Organ Grinder performances work best in a street fair type of setting in which the audience is mobile, stops for a short time to watch, and then can continue to hear the music for a distance.
| | |
| --- | --- |
| | An organ grinder appeals to all ages but especially to children and young families. |
| | |
| --- | --- |
| Teens at the Lovettesville, VA Oktoberfest dance a spirited polka! | |
With some exceptions, Organ Grinder performances are generally not effective indoors. However, Terry's small street organ can work in a large indoor space. And, although this type of entertainment is generally not appropriate for "stage" events, he can be booked to give a 45-60 minute talk and musical demonstration for a group interested in knowing about the history of street organs and organ grinders and how his street organ works.
•What does the outdoor event planner need to consider in choosing a spot for the organ grinder?

| | |
| --- | --- |
| | Ground level locations that can be easily reached by parents with children in strollers are good. Young children like to get up close to the organ to watch the monkey's face and sometimes to dance to the music. |
| | Children often like to dance to the music, or pretend they are monkeys, complete with sound effects! |

For heavily attended family events, the crowd of strollers can get quite large, so planners should allow space for a group of people to stop and listen.
Even though the large organ is on a cart, the set up and performance stays in one location as crowds pass by.
A location near food vendors often works very well, particularly if the location allows people to sit, rest, and eat while they listen.

The Organ Grinder plays his street organ fairly continuously and thus needs to be positioned to minimize overlapping sound with other performers, particularly if music from other performers is amplified. Terry typically strolls with the smaller organ, so planners should consider whether anyone else's activities or performance would be impacted if music "strolled in" for a few minutes.

Terry often interacts with other street performers if the occasion arises.

Here he helps entertain some children with his parrot and costumed "royalty" at the family oriented Culpeper, Virginia Mardi Gras Carnival.
| | |
| --- | --- |
| Terry and Mark Jaster, Washington D.C.'s favorite mime, play an impromptu street organ and musical saw duet at the fair in Waterford, Virginia. | |
•What are the access requirements?
Ideally, being able to pull the van up to the set up site to unload and reload is the easiest for set up. The large organ and the cart with the other equipment (music rolls, mechanical animals, etc.) can be pushed a short distance on hard surfaces, but not up steep hills, not across soft grass, and definitely not up stairs! The small organ can be carried almost anywhere.
What about the weather?
The street organs are valuable instruments and weather is an important consideration. Terry has performed in summer weather with temperatures in the low-90's and in late fall with temperatures in the low 50's. He cannot risk the organs in the rain, but he has an 8 ft. x 10 ft. canopy that can be set up for shelter if slight drizzle or mist is all that is expected. If a rain date for the event is scheduled, that needs to be arranged when Terry is booked for the event.
How far in advance should I contact Terry regarding my event?
The sooner you call the better chance you have of securing your date. A year in advance is not unreasonable. Because of traditionally recurring events, not all dates are available. You can e-mail initially, but Terry will need to talk with you personally on the phone before making a final commitment. Just click on the Contact Me button.
| | |
| --- | --- |
| | He can be scheduled to stroll with his smaller organ over a 3 to 4 hour period. Because carrying a 25 lb. organ is strenuous, he will need to take periodic short rest breaks. |
What kinds of music does he play?
Terry plays popular and traditional tunes, ragtime, songs from American musicals, traditional German music, Italian, Spanish, Russian and Swiss tunes, marches, and light classical selections arranged especially for this organ. New rolls are still being produced, so there is even a roll of American country style music. Other favorites include American patriotic music (arranged by a British arranger as a 9/11 tribute), Handel's Hallelujah Chorus, music from My Fair Lady, and the Oktoberfest favorite, the "Chicken Dance". Each of his two street organs plays different music.

| | |
| --- | --- |
| | At the Herndon Virginia Festival, Hoop Dancer Leslie Perales found that the organ grinder's happy music was perfect for her performance. They were in a special area of the fair with lots of activities for children. |
| | |
| --- | --- |
| Teens at the Washington National Cathedral Flower Mart wanted to know how the street organ worked. | |
What do the mechanical animals do?
| | |
| --- | --- |
| Wastel, his hand crafted German monkey, can wink, move his mouth, wiggle his ears, wave his hand, tip his hat, and even stick out his tongue (a favorite with the kids). | |
| | |
| --- | --- |
| | Terry uses the mechanical birds to talk with the children. He removes a bird from its perch and "helps" the parrot say "Hello, Mary " (or whatever the child's name is) to the little admirer. The animals can not go with him, however, when he strolls with his small street organ. |
Where has Terry performed?
Terry is a tradition with his large street organ at local events including the Washington National Cathedral Flower Mart; the C & O Canal National Historical Park in Maryland; the Kentlands Oktoberfest in Gaithersbutg, MD. the Waterford Fair, Waterford VA; and Independence Day in Great Falls, VA.
He has also performed at the Bluemont Fair, Bluemont, VA; Warrenton Spring Festival, Warrenton, VA, Carnival-Mardi Gras in Culpeper, VA; community Oktoberfests in Lovettsville, VA ; Taste of Brunswick (as in Brunswick stew) Festival in Alberta, VA; the Ringling Museum, Sarasota, FL; Dogwood Dell Festival of the Arts, Richmond, VA; 1890's Weekend, Mansfield, PA; the Herndon Festival, Herndon, VA; the Guppy Gala at the National Zoo in Washington, DC; Independence Day at Great Meadows in The Plains, VA; special events at the Netherlands Embassy in Washington, DC; the Delaplaine Strawberry Festival; Warrenton First Night, Warrenton, VA; Clifton Day, Clifton, VA; events sponsored by Giant Food; Lewistown, PA Kid's Connection; Reston Fine Arts Festival; Reston Taste of the Town; McLean Wine Festival; Lucketts Fair; Washington, DC German–American Day and other German–American events; Mount Vernon; Baltimore's Harbor Place, and at many other regional and local events, schools, churches, music summer day camps, charity fundraisers, and private parties.
Terry has played his small organ for indoor events at the Renwick Art Gallery in Washington, DC, strolled the streets of the Waterford Fair, and has performed occasionally for local art gallery events. He has performed with both the large and small organs at band organ rallies sponsored by the Carousel Organ Association of America (he won the People's Choice Award at Dutch Village, in Holland, Michigan) and the Musical Box Society International.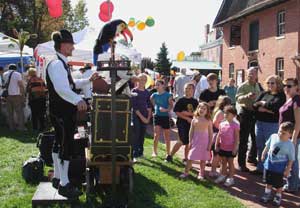 Kentlands Oktoberfest
Gaithersburg, Maryland